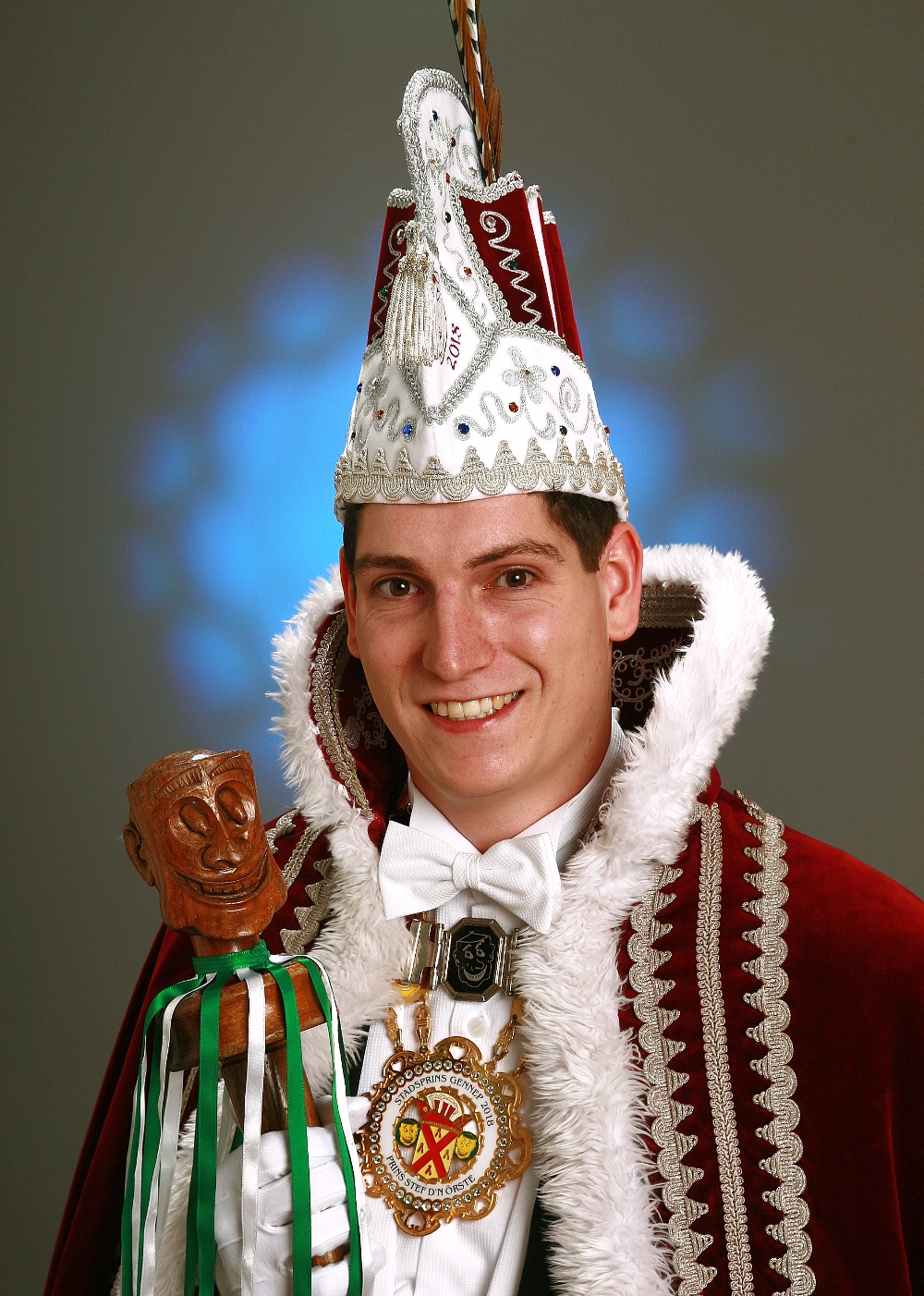 O.nder ovverwéldigende belángstélling en mit veul entoezjasme is d'n heer Stef Rutten (25) uutgeroe.pe tot d'n 69e Prins van 't Bombakkes. Saame mit zien Prinsés Dyantha zal hïj ien Génnep heerse ovver alle Bombakkiërs en ze vörgaon ien de Vastelaovend.
Prins Stef en Prinsés Dyantha, van harte profiesjat mit uutverkiezing !!
Ien enne bomvolle zaol van Pica Mare, waorbïj enne groote groep ga.ste van de Enkhuizense "Haringhoppers", lie.p de spanning al gáw op: "Wie is d'r wég?", "Wie hébbe nog nie gezie.n?". Mar tégge hallef 11 was 't ze wied. O.nder 't gruun-witte ding wier de nïjje Hoogheid naor binne gebraocht. Vorst Maarten telde saame mit de heele zaol af van 11 wies 0 en daor ienèè.ns sto.nd ie: Stadsprins Stef d'n Örste! Zien Prinsés Dyantha sto.nd al gáw nèvve 'm. Ze liete zich heerlek dör de zaol toejuiche. Sommige hadde 't geraoje, i.nkele hadde 't verwa.cht, mar niemand wis 't zeeker. Mar één ding is nów wél zeeker: Zunne goeie hébbe wïj nog nie gehad!
Prins Stef is ien 't dageleks lèève timmerman bïj Jara Multibouw, één van o.ns trouw sponsoore. Ien ziene vrïjje tied is hïj al jaore trompettist bïj de 200 jaorige Hérmenie Unitas et Fedelitas, bïj Hofkapél "Nève d'n Diepvries" én bïj jeugdjoekskapél "D'r Ân". Ien de vastelaovestied is ie ôk nog bouwmèèster van C.V. Hakuna Matata. Daorbuute gét ie gè.r ien 't wiekend duike (hïj hét sinds vörrig jaor zien duikbrevet) en as ie dan nog tied aover hét, is ie beezig mit 't verbouwe van zien huus of gét ie smeis en rö.ndje hardloope of fietse.
Prinsés Dyantha duut veul saame mit hurre Prins. Zïj speult saxofoon bïj Nève d'n Diepvries en D'r Ân en sinds afgeloope jaor ôk bïj de Hérmenie. Daornèève is ze heel aktief binne duikteam Atlantis (die van o.nze Niersjaorsduik), as bestuurslid mar ôk binne de activiteitekemissie en de jeugdafdeling. Ôk zïj helpt ieder jaor mit öm C.V. Hakuna Matata ze mój meugelek ân d'n optocht mit te laote doe.n.